▪ DAILY HIP HOP NEWS FROM HOT 108 JAMZ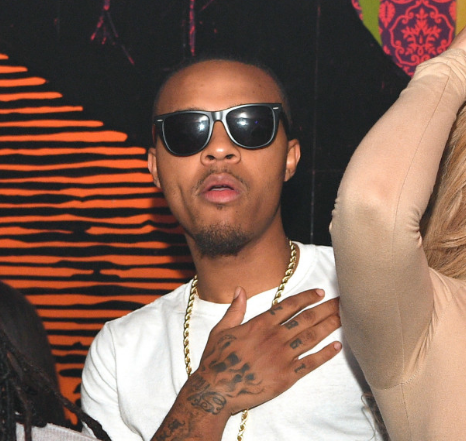 Hip Hop News For: APRIL 5, 2017
Soon after President Donald Trump called Snoop Dogg a flop while threatening him with jail time, Bow Wow came to the rescue with an obvious contagious case of Twitter fingers and threatens to push the First Lady, Melania Trump, into prostitution.

Ayo @realDonaldTrump shut your punk ass up talking shit about my uncle @SnoopDogg before we pimp your wife and make her work for us.

— Shad Moss(Bow Wow) (@smoss) March 15, 2017

Bow Wow, who goes by his government name Shad Moss now, returned a threat Donald Trump gave Uncle Snoop for depicting him as a clown in the visual for BADBADNOTGOOD's remix of "Lavender," and creating a mock assassination.

Donald tweeted out Wednesday morning (March 15).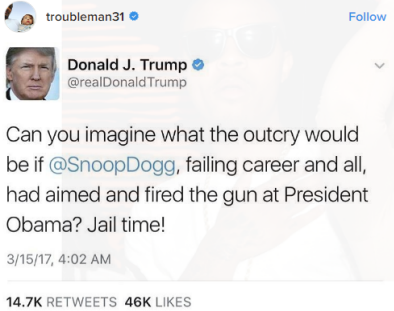 Florida Senator Marco Rubio also expressed distaste over Snoop's visual and believes that the image could present the wrong idea.

"Snoop shouldn't have done that," Rubio said. "We've had presidents assassinated before in this country, so anything like that is something people should really careful about. [If the] wrong person sees that and gets the wrong idea, you could have a real problem. So, I'm not sure what Snoop was thinking. He should think about that a little more."

Another fellow rapper who came to Big Snoop Dogg's defense is T.I., who has been as equally vocal about the disappointment in Donald Trump's presidency. He basically held a roast session in the caption of a screenshot of Trump's tweet posted to his Instagram.

»past news stories


From the makers of Hot 108 Jamz comes...

a NEW
R&B Channel
- "REAL R&B"


CLICK HERE TO LISTEN
We're building this NEW channel with your input.
Please listen and let us know what you think so far.
Give us your feedback > HERE
Hip Hop is a fast paced, constantly evolving, music genre. Hot 108 mz is committed to providing you with the latest news, newest music and updated information 24/7 - 365. Visit Hot 108 Jamz daily for round the clock updates live from the hip hop capital of the world New York City!
▪
Hot 108
Jamz MegaCity Mini's - 8:30pm
& Eastern - Monday's & Wednesday's

Hot 108 Ja
mz Mix DJ's spin the hottest mini's every Monday and Wednesday nights at 8:30pm Eastern. Resident DJ: DJ Wrapid, DJ XTC, DJ Wax-N-Tacs and more. »
Listen Live
▪
VOTE NOW!
- Request Your Favorite Song